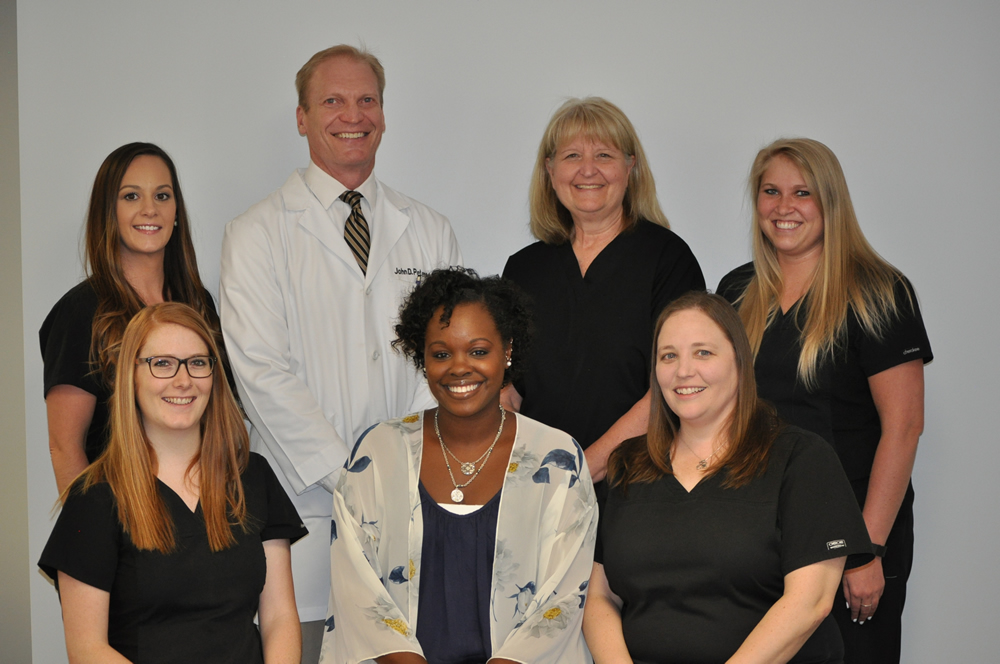 Omaha Center for Sight is a group of dedicated, experienced individuals providing medical, surgical and routine eye care in their ophthalmology clinic near 88th and Center Street.  Our physician, Dr. Peters, is a board-certified, fellowship-trained cornea specialist with over 25 years of experience.
He performs no-stitch cataract surgery, LASIK, PRK, cornea transplants and many other procedures.  He also provides glaucoma, diabetes and macular degeneration treatment.  The wide array of clinical services available improves convenience and efficiency for our patients.
His administrative and technical staff are extensively trained in preparing patients for their exams as well as in special testing such as visual fields, corneal topography, OCT, and fluorescein angiography.
Our office environment is relaxed and professional.  As a smaller office, we are able to provide more personal care and get to know you.  We are confident you will appreciate our people and our service and we look forward to seeing you!
What Our Customers Are Saying
During a routine eye exam I asked Dr. Peters if I would be a candidate for LASIK surgery.  He did several tests and assured me that he could perform the procedure.  I might add that the results of my exam showed that my right eye was almost a -9 and the left was almost a -8.  Dr. Peters was very candid about the results I could expect to receive if I chose to go ahead with the procedure.
Dr. Peters performed my LASIK procedure.  For the first time in 39 years of wearing glasses I was able to watch television and enjoy outdoor activities.
I would and do recommend Dr. Peters to anyone that is interested in trying to enhance their life through LASIK.
I'm writing to you because I want you to know how very grateful I am to you for doing cataract surgery on my eyes.  I can see tremendously better!  The VA doctors accomplished a complete physical exam on me after I was discharged from active duty.  The ophthalmologist examined my eyes and said "Your cataract surgery is just beautiful".
Well, sir, I can see the beauty of God's world in much more colorful and clearer detail—because of your healing touch.  I can read.  I am a much safer driver.  I can tie fishing knots again—and I can tell the difference between a pheasant and other birds at 100 yards.  Your professionalism and God's healing touch in your hands has highly improved my life and ability to serve others.  My deepest gratitude.
I saw Dr. Peters at Omaha Center for Sight when I was looking into getting LASIK done.  During my consultation, Dr. Peters' staff was very kind and helpful and Dr. Peters himself was very knowledgeable and took time to answer all of my questions and address my concerns.  I knew what to expect the day of surgery which definitely helped to calm my nerves.  The day of the procedure, I was again informed of how the procedure works and what to expect.  The surgery itself was very quick and Dr. Peters talked me through the whole way.  I scheduled my post-op follow-up the same day and was already very impressed with my results.  At all of my subsequent rechecks, Dr. Peters was diligent about asking how I was doing, how the eye drops were working, and if I had any concerns.  I am very happy that I chose to go to Omaha Center for Sight for such a delicate procedure and I would recommend Dr. Peters to anyone for LASIK or as a general ophthalmologist.
Make an appointment for yourself today